About Us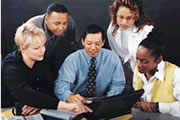 The Management Practice is a management consultancy focused on organisational transformation and performance improvement. Transformations are discontinuous changes characterised by the need for new skills, management capability, and approach to problem solving. We establish long-term relationships with our clients gaining real understanding of their business, their objectives and their values. We provide support throughout the change process from planning to implementation.
We believe strongly that most people are capable of offering more to their employer. Our skills are in helping to create the environment that allows individuals to realise their full potential. Through a combination of expertise in human resource, business and operations management we are able to help clients achieve creative yet practical solutions to people management issues.
The consultancy was started by Steve Hollingsworth in 1996. Steve had spent much of the previous 10 years introducing and managing change in the aerospace industry and had a career in operations management, HR and training development. He works at Board and senior management level in the private and public sectors and holds various directorships in non-profit and charitable organisations. Our consultants are specialists, bound by a common belief in the importance of managing the interface between the hard technical and soft behavioural issues. Our intention is to add value to your company and to build a long-term relationship with you. We pride ourselves in the quality of the work that we deliver.